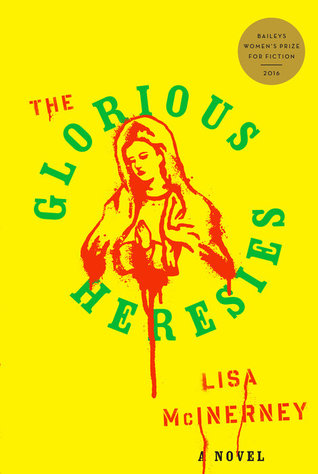 Title:
THE GLORIOUS HERESIES
Author:
Lisa McInerney
Category/Genre:
Adult Contemporary
My Star Rating:
4/5
Goodreads Blurb:
One messy murder affects the lives of five misfits who exist on the fringes of Ireland's post-crash society. Ryan is a fifteen-year-old drug dealer desperate not to turn out like his alcoholic father Tony, whose obsession with his unhinged next-door neighbour threatens to ruin him and his family. Georgie is a prostitute whose willingness to feign a religious conversion has dangerous repercussions, while Maureen, the accidental murderer, has returned to Cork after forty years in exile to discover that Jimmy, the son she was forced to give up years before, has grown into the most fearsome gangster in the city. In seeking atonement for the murder and a multitude of other perceived sins, Maureen threatens to destroy everything her son has worked so hard for, while her actions risk bringing the intertwined lives of the Irish underworld into the spotlight . . .

Biting, moving and darkly funny, The Glorious Heresies explores salvation, shame and the legacy of Ireland's twentieth-century attitudes to sex and family.
My Review:
Filled with betrayal, dark grumblings and profane truth, The Glorious Heresies is a book that will stick out in my mind for a long time. The dialogue was striking, while the characters and story crept into the deepest parts of humanity and left you there wondering if these are the type of twisted people living right down the street. Spoiler alert: they probably are. One single act of perceived self-defensive sets off a chain reaction in the lives of so many, and like a train wreck you will find yourself unable to look away. Maureen was blunt, wise and frankly honest. I loved her. Much of my husband's side of the family is Catholic, and while I could see them throwing their arms about in fury if they read many of the old lady's ramblings, as a non-religious heretic (or Buddhist, as I prefer) I found them hilarious. Reader beware: one should not pick up this book if you're easily offended.
**I received a free copy of this book from the publisher and Blogging For Books in exchange for a honest review**