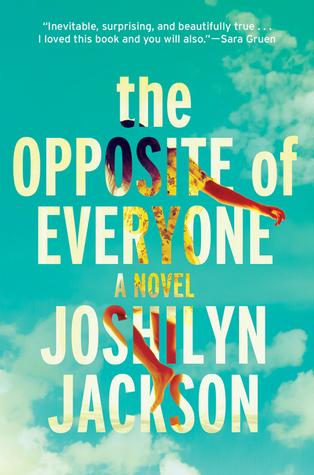 Title:
The Opposite Of Everyone
Author:
Joshilyn Jackson
Category/Genre:
Contemporary Adult
My Star Rating:
4/5
Goodreads Blurb:
Born in Alabama, Paula Vauss spent the first decade of her life on the road with her free-spirited young mother, Kai, an itinerant storyteller who blended Hindu mythology with Southern Oral Tradition to re-invent their history as they roved. But everything, including Paula's birthname Kali Jai, changed when she told a story of her own—one that landed Kai in prison and Paula in foster care. Separated, each holding her own secrets, the intense bond they once shared was fractured.

These days, Paula has reincarnated herself as a tough-as-nails divorce attorney with a successful practice in Atlanta. While she hasn't seen Kai in fifteen years, she's still making payments on that Karmic debt—until the day her last check is returned in the mail, along with a cryptic letter. "I am going on a journey, Kali. I am going back to my beginning; death is not the end. You will be the end. We will meet again, and there will be new stories. You know how Karma works."

Then Kai's most treasured secret literally lands on Paula's doorstep, throwing her life into chaos and transforming her from only child to older sister. Desperate to find her mother before it's too late, Paula sets off on a journey of discovery that will take her back to the past and into the deepest recesses of her heart. With the help of her ex-lover Birdwine, an intrepid and emotionally volatile private eye who still carries a torch for her, this brilliant woman, an expert at wrecking families, now has to figure out how to put one back together—her own.

The Opposite of Everyone is a story about story itself, how the tales we tell connect us, break us, and define us, and how the endings and beginnings we choose can destroy us . . . and make us whole. Laced with sharp humor and poignant insight, it is beloved New York Times bestselling author Joshilyn Jackson at her very best.
My Review:
**I received a complimentary advance reader's copy in exchange for a honest review**
Holy heart-wrenching, suspenseful mess! This book was an emotional roller coaster, filled with self-destruction and masochism to the nth degree. And I loved every minute of it!
Generally, I don't enjoy contemporary novels. I crave fantasy and supernatural, something that takes me from the angst of everyday life and tosses me in the middle of a stranger's world. Or hey, at least a little spice. Maybe this one clicked with me because it had so much Hindu mythology laced in the story-line, allowing me to face how uncomfortably familiar Paula's character and world were to my own.
I loved the character growth and the complexity of dysfunction present, but what struck me the most here was the writing itself. I have never read anything from Joshilyn Jackson before; I was not prepared for the purity in her words. Somehow, Ms. Jackson is able to make an anxiety attack sound poetic and abandonment read like a lyrical masterpiece. She is by far one of the most talented writers I've found.
My one and only complaint is how long it took me to warm up to Paula. She was a balls to the wall badass, and even though we're given a fishbowl view into her childhood to better understand why, it wasn't until about half way through the book that I actually
liked
her. I was more invested in the story than the main character for the better part of the read.