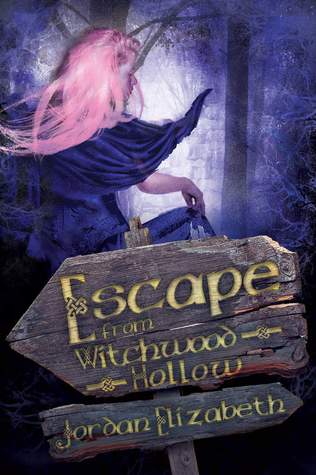 Title:
Escape From Witchwood Hollow
Author:
Jordan Elizabeth
Category/Genre:
Young Adult Paranormal
My Star Rating:
4.5/5
Goodreads Blurb:
Everyone in Arnn - a small farming town with more legends than residents - knows the story of Witchwood Hollow: if you venture into the whispering forest, the witch will trap your soul among the shadowed trees.

After losing her parents in a horrific terrorist attack on the Twin Towers, fifteen-year-old Honoria and her older brother escape New York City to Arnn. In the lure of that perpetual darkness, Honoria finds hope, when she should be afraid.

Perhaps the witch can reunite her with her lost parents. Awakening the witch, however, brings more than salvation from mourning, for Honoria discovers a past of missing children and broken promises.

To save the citizens of Arnn from becoming the witch's next victims, she must find the truth behind the woman's madness.

How deep into Witchwood Hollow does Honoria dare venture?
My Review:
*I received a complimentary copy of this story in exchange for a honest review*
It took me longer than I thought it would to write this review because I really had to absorb this story after the shocking ending. It would be unfair, though, to judge the whole book based on the last few pages alone, so here we go:
This was such an interesting story! I loved how the same basic legend was told from the perspective of three different women from three different time periods. At first, this was very confusing to me and I often lost track of which character's story was being told when. This kept me from really enjoying the story since I kept having to pull out and think to myself, "Wait, which one is she again?" But, I quickly got used to the 'time-hopping' and once I got to know the characters it flowed nicely. Very well written, and characterization was on point. But...Jordan...That ending, though?! Why would you do that to me??