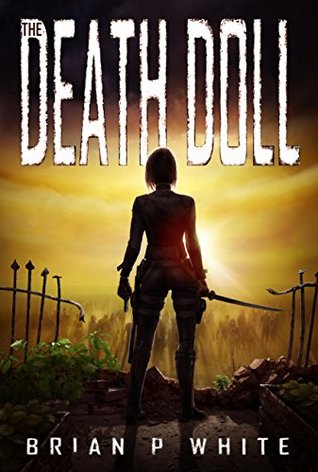 Title:
Death Doll
Author:
Brian P White
Category/genre:
Adult Apocolyptic
My Star Rating:
4/5
Goodreads Blurb:
Didi was once the darling of the porn industry, baring it all for the world on the silver screen.

Then came the zombie apocalypse.

Two years later, she's killing every flesh-eating corpse in her path to protect a group of unlikely survivors in northwest Iowa. Unfortunately, she hides a terrifying secret that threatens every life she defends. For nothing left on Earth that creeps or crawls is as lethal as The Death Doll.
My Review
:
This was an awesome story, packed with action and a fresh twist on the zombie genre. A kick-ass heroine who's technically dead, but dedicated to protecting the living? Genius. I loved how she clung to her remaining humanity for dear life, yet was perfectly honest with herself about the struggle her unique position presented her with. She wasn't a martyr to her circumstance, she owned it. If the story had been solely focused on her, I think it would've been a total home run. To me, she was the one character who was truly fleshed out. The others lacked the same depth, and frankly I think there were too many secondary characters to keep track of. I frequently found myself having to stop reading to think back about who we were talking about and what their position/backstory was. All in all, killer zombie story!
**I received a complimentary copy from the author and voluntarily offered a honest review**