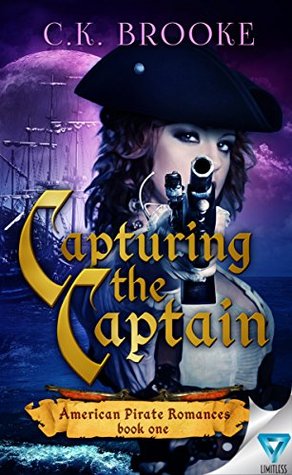 Capturing the Captain (America Pirate Romance #1)
by
C.K. Brooke
Genre: Adult Historical Adventure Romance
Release Date: April 26th 2016
Limitless Publishing
In 1720, it's a pirate's life for Abigail Clear, daughter of a notorious colonial pirate captain…
But when a rival crew invades Abigail's ship, she is taken prisoner. Now aboard the enemy vessel, she must contend with its formidable captain. But who is the real captive?
Locked away in the belly of The Indomitable is no place for a woman…
Captain James Morrow is more than displeased to discover his sole captive to be none other than an untamable young lass who will earn him no bounty. Yet if he can soften the little rogue, she just might switch her loyalties to him, and reveal the whereabouts of the infamous thief who sired her—and his stolen treasure. But two can play that game, as Abi is equally inclined to charm the dogged sailor off her father's tail.
Might she and Captain Morrow run the risk of falling for their own charades?
They dance about their disguises as genuine developing emotions clash against deeper motives, and suspicion runs high. When the captain finally steals a first kiss, Abi decides it's high time to make her escape—fleeing not only his vessel, but her fondness for the man who intends to see her father hang.
The high seas heat up as Captain Morrow's quest to recapture Abi is halted by her pirate father, Captain Clear. Will James succeed in pursuit of his captive love, or will his desires conspire to make him a captive himself?
*Advisory: Contains some sensual/sexual content
Capturing The Captain has easily secured a spot on my list of favorite reads, not just for 2016, but EVER. A swoon-worthy romance with one of the most incredible, strong, and stubborn heroines ever, this book is a must read. James is a dashing (former) pirate, presented as the perfect combination of rugged and romantic. Abi is headstrong and anything but dainty. When the two collide, sparks fly and magic ignites! With a steady pace and tons of razor-sharp action, this is a page turner from the very start. I've never read anything from C.K. Brooke before, but I plan to seek out her earlier works. Her writing style is so fluid and natural while still maintaining a crisp edge of intellect, making it easy to lose yourself in the story. What an exciting, thrilling read!

*I received a complimentary copy from the author and I voluntarily reviewed*
C.K. Brooke is a 2015 Shelf Unbound Notable Indie author with a five-star rating by Readers' Favorite. She holds numerous fantasy and romance publications with 48fourteen, Limitless Publishing, and Elphame Press. Her lifelong passion is books - reading, writing, editing, publishing and blogging about them. When not blissing out in literary land, she enjoys info-tainment podcasts, singing, songwriting and playing the piano. She lives in Washington, Michigan with her husband and young son. There's tons to check out at the new CKBrooke.com, so come and see what she's up to!
Check out her
V.I.P. Readers Club (Subscribers get a free eBook!)