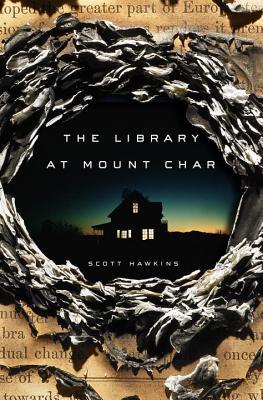 Title:
The Library at Mount Char
Author:
Scott Hawkins
Category/Genre:
Adult
My Star Rating:
5/5
Goodreads Blurb:
Neil Gaiman meets Joe Hill in this astonishingly original, terrifying, and darkly funny contemporary fantasy.

Carolyn's not so different from the other human beings around her. She's sure of it. She likes guacamole and cigarettes and steak. She knows how to use a phone. She even remembers what clothes are for.

After all, she was a normal American herself, once.

That was a long time ago, of course—before the time she calls "adoption day," when she and a dozen other children found themselves being raised by a man they learned to call Father.

Father could do strange things. He could call light from darkness. Sometimes he raised the dead. And when he was disobeyed, the consequences were terrible.

In the years since Father took her in, Carolyn hasn't gotten out much. Instead, she and her adopted siblings have been raised according to Father's ancient Pelapi customs. They've studied the books in his library and learned some of the secrets behind his equally ancient power.

Sometimes, they've wondered if their cruel tutor might secretly be God.

Now, Father is missing. And if God truly is dead, the only thing that matters is who will inherit his library—and with it, power over all of creation.

As Carolyn gathers the tools she needs for the battle to come, fierce competitors for this prize align against her.

But Carolyn can win. She's sure of it. What she doesn't realize is that her victory may come at an unacceptable price—because in becoming a God, she's forgotten a great deal about being human
.
My Review:
This was an incredible, gruesome, fantastical read that I flat out could not put down. I spent half of the book trying to figure out what was wrong with me; clearly I should have been gagging instead of giggling maniacally at the dark humor that expertly offers relief in exactly the right places. The twisted methods of torture and murder surely could only from the mind of a mad genius. This book erred on the side of horror, with a complex and intense story-line that will have you desperate to find out what will happen next...and trust me when I tell you, the second you think you've got it all figured out, remind yourself that you don't. You won't see what's coming. I have one and only one author on my automatic "buy it now" with out reading the blurb (ehem, Debbie Herbert), and she is a totally different kind of writer than Scott Hawkins, but I enjoyed this book so much that he has officially been added to that very exclusive list.
**I received a complimentary copy of this book from Blogging For Books in exchange for a honest review**
About The Author
SCOTT HAWKINS works as a software engineer for Intel. He and his wife live in Atlanta, where they spend much of their time playing Olympic-caliber fetch with their large pack of foster dogs. THE LIBRARY AT MOUNT CHAR is his first novel.